The Difference Between Email Marketing and Mobile Marketing 
While email marketing is a direct marketing approach that uses electronic mail as a means of communicating messages to a target audience, mobile marketing is a multi-channel, digital marketing strategy aimed at reaching a target audience on their smartphones, tablets, and/or other mobile devices, via websites, email, SMS and MMS, social media, and apps.
Mobile Marketing
To clarify, mobile marketing means promoting a brand or business in a way that is more efficient for smartphones and other mobile devices. Mobile marketing is a digital marketing strategy that uses social media, apps, SMS etc. to reach a target audience.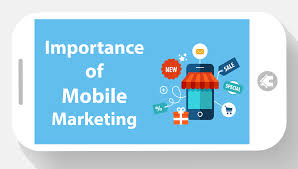 Mobile devices are improving the way brands interact with their audience and the way people engage with brands. Everything that can be done on a desktop computer is now available on a mobile device. From opening an email to visiting your website to reading your content, it's all accessible through a small mobile screen. Research shows that 80% of internet users own a smartphone.
As a marketing strategy, mobile marketing allows a business to reach a larger audience. In order words, businesses are taking advantage of the amount of time the average person spends on a mobile device. Consequently, businesses are promoting campaigns on mobile devices.
Email Marketing
Email marketing is a form of direct marketing that uses electronic mail as a means of communicating commercial or fundraising messages to an audience.
At its most basic level, email marketing is the use of email to promote your business. Email marketing helps to keep current customers informed and updated on your brand, product, and services. Email marketing gives updates on promotion offers, discounts and sales offer to encourage customer loyalty and more.
Advertisers can reach substantial numbers of email subscribers who have opted in to receive email communications on subjects of interest to them. Email allows marketers to reach out to consumers with personalized, relevant, dynamic messages.
Email marketing is used to build trust with customers for a longer period of time. An effective way to keep your customers informed about new sales or promotions is through email marketing. People want to stay informed about your brand, and email marketing is one of the best ways to stay engaged with that audience.
The disadvantages of email marketing surround the rejection/spam rate of the emails by the consumers' email program, negatively affecting the delivery rate of the emails. The issue with spam has somewhat been eliminated with the idea of "Opt-in" emailing. For that reason, the consumer consents to receiving the emails and therefore eliminates the idea of receiving unsolicited emails.
Was this post helpful? Read our post on Voice SMS and how it can help your business grow.